KITCO Spot Gold Prices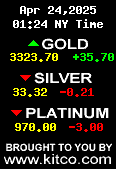 Precious metals are a commodity like others that change daily. Gold, silver, platinum and other precious metals pricing is constantly in a state of flux as it responds to market changes.
When selling your gold, or even considering having a piece of custom made jewelry by Eve's Fine Jewelry, it's always a good idea to understand the current price for gold at that time. Check here often to stay current with pricing. We are always happy to discuss gold prices as they affect selling your gold, or when considering a custom made piece of jewelry. Call, email, or visit us soon to learn more about gold prices.